L'Opéra officially launches its first Café-Restaurant at Civil Lines, Delhi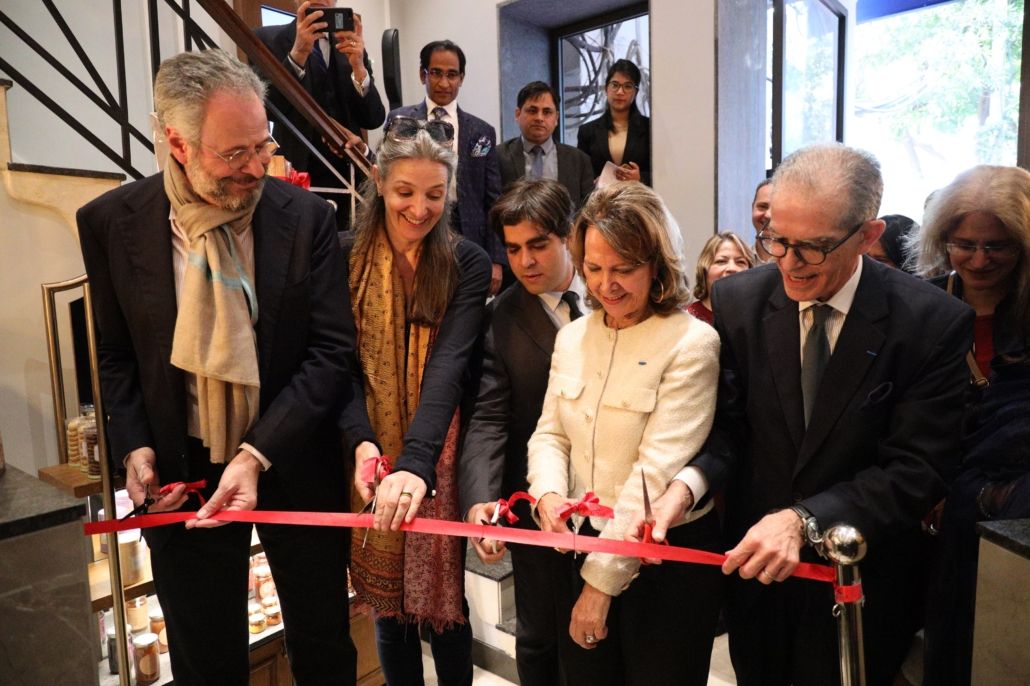 L'Opéra, Delhi's finest award-winning French Pâtisserie-Boulangerie and Salon de Thé (Tea Room), officially launched its first ever Café-Restaurant in Delhi at Civil Lines on Saturday, 15th February 2020 with H. E. André Aranha Correa do Lago officiating as the Chief Guest. To celebrate the occasion, the Samandari family (the Founding family) organised a High Tea for over 120 guests that included Ambassadors and High Commissioners, personalities from the world of business, arts and fashion, respected members of the media and patrons.
Guests mingled and enjoyed bite-sized savouries and mini desserts along with juices and hot and cold beverages as served by smiling waiters with dashing traditional French uniforms. Soon all were surprised to hear genuine French opera as singers from The Neemrana Music Foundation serenaded the audience with powerful voices from the mezzanine floor, and our own Philippe Engel (who we believe is one of the best pianists in Delhi) provided accompaniment on the keyboard down below.
In his brief welcome speech, Laurent Samandari, Managing Director of L'Opéra (and initiator of the company) spoke about the progress L'Opéra has made over the years. "We had in the past the 'Pâtisserie-Boulangerie', more recently the concept of 'Salon de Thé' — a lot of you have also been enjoying yourselves in such outlets like at Basant Lok — and now this one is a new concept which is called 'Café-Restaurant'. So that makes this place quite different from the others that we have, though the look, the atmosphere, and the products of the typical café in Paris haven't changed. Now, as many of you know, L'Opéra has been expanding in Delhi, and with the upcoming opening of stores, that will bring us to 23 outlets in total, which is quite special." Mr. Samandari also expressed his wish that the entire community of customers and friends of L'Opéra, from drivers and waiters to spouses and children, could find time and space to participate in the event together, and noted that all these were surely with us in our hearts.
Kazem Samandari, Executive Chairman and Co-Founder formally addressed the gathering and welcomed everyone. He started by saying, "usually sons follow in the footsteps of their fathers, but in our case it has been the other way around: the idea of L'Opéra came from Laurent, who just spoke before me, so in our case the parents, the mature generation is following the lead of their sons, which is the way things should have been in the first place, because they know how to innovate, and they are courageous." Noting that over the last 14 months, L'Opéra has been opening on average one outlet every six weeks, he also highlighted the efforts of a number of L'Opéra teammates who have made outstanding contributions to the progress of the company.
Finally, the chief guest, Ambassador of Brazil to India, H. E. André Aranha Correa do Lago spoke to the gathering, saying, "I am super happy to be here because you have created some amazing places in Delhi that we all want to be in. The ambience is great, the service is amazing. You have added an incredible chapter in Delhi. The fact is, you [M.Samandari] are a bien-faiteur — you make this city even better. I [H.E. Ambassador André Aranha Correa do Lago] came here today just to tell you that we admire you, and we thank you." 
After the official cutting of the ribbon to inaugurate the Café-Restaurant, guests once again enjoyed the festivities and shared their thoughts on the experience: 
"The expansion of L'Opéra proves that India is a big and growing market for world class products and excellence in both quality and services. It's very encouraging." —Ambassador Krishna Rajan 
"This expansion tells you about the change that Indians want, engaging with more diversity and international culture. It's going to do very well. This part of the city is a uniquely traditional place, but now it's exploding with new opportunities like this; it's becoming a lifestyle." 
—Dr. Poonam Batra
"We love the food so much, the moment we come here we forget about dieting. And today's experience was awesome!" 
—Parull Mahaajan (Official Representative of British Herald) & Papa Assane (Consul to Embassy of Senegal) 
"It's the most Parisian cafe I've ever seen in Delhi!" 
—Ananya, 8 years old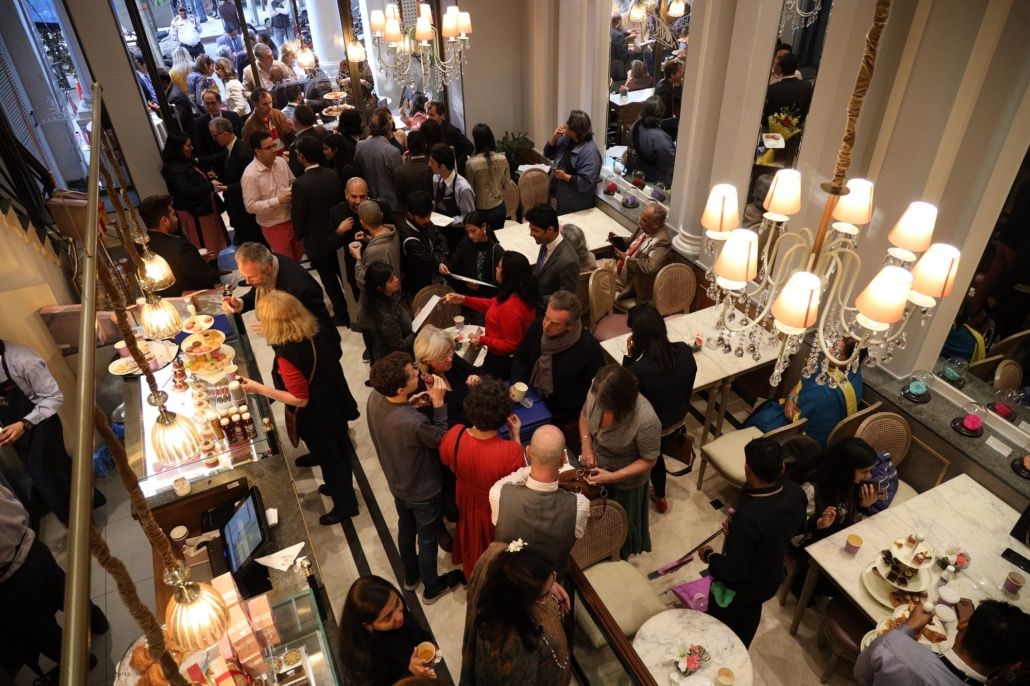 Located in the historic Exchange Building, right next to Civil Lines metro station and spanning two stories, the L'Opéra Civil Lines Café-Restaurant can host up to 65 seated guests indoors and an additional 8 outdoors. It offers a full-fledged menu with soups, posh toasts, large plates, salads, burgers, pasta, pizzas and desserts with a French touch as well as a variety of beverages. Some examples of the experience include the delicate crispness of a chocolate macaron, the colorful delight of the Roasted Tomato, Basil, and Goat Cheese Tarte, the tarragon scent of the Grilled Chicken Ciabatta Posh Toast, the spicy thrill of the Pasta Arrabbiata, and the delicate creamy luxury of our signature "Opéra" layer cake and pastry. This Café-Restaurant suits a variety of groups and dining needs, such as collecting one's thoughts over a pastry and tea, dining with a partner or small group of friends, or even meeting with a larger group in the private dining on the mezzanine floor. With colourful flowers displayed on fabulous Louis XVI-style marble tables, vibrant photography of France displayed on the walls, large glass façades facing the busy sidewalk and the soothing strains of French music playing in the background, the outlet instantly transports you back to Paris.
https://blog.loperaindia.com/wp-content/uploads/2018/12/footer-logo.png
0
0
Sowmya Gascon, L'Opéra
https://blog.loperaindia.com/wp-content/uploads/2018/12/footer-logo.png
Sowmya Gascon, L'Opéra
2020-02-27 20:40:21
2020-02-27 20:40:21
L'Opéra officially launches its first Café-Restaurant at Civil Lines, Delhi